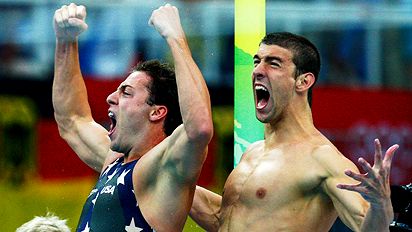 Just when you thought the collapse of the French army in 1940 was as bad as you can get, here comes the 4 X 100 freestyle relay. The French are favored, the French are expecting to win, the French are
talking smack
. The race began well for the US, but anchor Jason Lezak found himself trailing by a half-body length as the race entered the final 100 meters.
Just to his right was French jerk Alain Bernard who was quoted as saying "The Americans? We're going to smash them." Lezak had not made up any ground entering the final 50 meters, but started to gain ground as he ran out of water before surpassing the Frenchmen and winning the race by .08 seconds.
Before we go any further, indulge us in a mental exercise which may be considered by some to be a stretch of the imagination.
Underdog -- check.
Jerks are favored -- check.
History on the line -- check.
Charismatic leader who is arguably the greatest of his sport -- check.
Solid start -- check.
Fall behind big late -- check.
Amazing comeback leading to remarkable victory -- check.
Ladies and gentlemen we present for you the pool version of the 2006 Rose Bowl. Just replace French with Trojans and every American swimmer with Vince Young and it fits perfectly!
We love the Olympics!